Assessment
Jump to navigation
Jump to search
Executive Summary Step 7: Assessment
While feedback is a continuous process throughout the course, the overall performance is usually assessed through grading. The following section is giving support on this part of the process.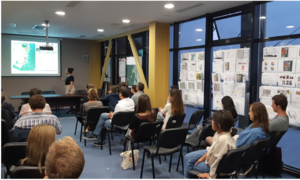 Part of the examination is also an oral online presentation after each thematic section of the seminar. Each team member is required to speak and present one slide or more. Approximately four working groups are formed and together with the teachers and tutors, the working groups also form the presentation audience. The presentation is moderated and discussed within the working groups, evaluated by the teachers and tutors using a feedback form without grading (see the Rubric Template below), and the result is reported back to the four working groups in a timely manner. At the end of the seminar, the international teams also need to reflect on their collaboration process and document their findings). The completed case study provided using the wiki template is evaluated and graded according to the following criteria:

Comprehensiveness and depth of the research in general (in particular assignment A)
Methodological conclusiveness and clarity (in particular assignment B)
Consistency in the formulation of strategy and objectives as well as persuasiveness and creativity
in spatial (landscape) vision and implementation ideas (in particular assignment C)
Profoundness and seriousness in the process (assignment D)
Competence in textual and graphic expression, visual appearance of graphics and maps
Scientific quality of the elaboration, source work, citation method etc.

Students who actively take part in both the online seminar and the intensive study programme (ISP) workshop have the opportunity to take the graded assignment there. In this case, the focus is on strategic and spatial planning and the assessment criteria differ slightly.
Rubric Template
Please feel free to use the following rubric templates for the assessment of student work in the COLAND intensive programmes.
Download the template for your own use (Creative Commons license)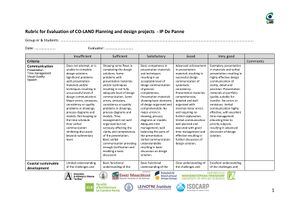 Converting grades across different higher education systems
The ECTS credit system has been harmonized across Europe but the diversity of grading systems poses a major challenge to facilitating European student exchange. The following table is providing a general overview of ECTS grades, but these still have to be translated into your local grading system. Please contact your local Erasmus+ coordinators for specific support and information.
| ECTS Grading Scale | Definition |
| --- | --- |
| A | excellent |
| B | very good |
| C | good |
| D | satisfactory |
| E | sufficient |
| FX | fail |
| F | fail |
Further Reading