External dissemination: Actions 5-6
Jump to navigation
Jump to search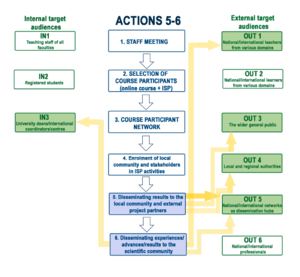 ACTION no.5: Disseminating experiences/advances/results to the local community and external project partners
The intensive study programme (ISP) focuses on a specific study area chosen by each university partner responsible for organising such activity (host partner). Local communities are strongly interested in these programmes and their design outputs. The involved stakeholders who live in the study area expect effective solutions to the critical issues and problems analysed during the workshops. To meet such expectations, the dissemination must include a post-ISP phase with the publication of the workshop design proposals in the booklet described in Action no. 4. Moreover, the activities should be published in local newspapers and on broadcasting tv/ radio to reach a wider local public who, although interested, may not have found active involvement during the ISP's activities. The dissemination is carried on the project's website and social media, as part of the ongoing process of documentation. The host partner uses the ISP outputs to disseminate directly to the local and regional community and authorities. Also, to the local and regional professionals through thematic events, workshops and debates held on the occasion of international elebrations in the field (such as the World Town Planning Day) and for specific local and regional discussions of coastal area planning issues. The ISP output may be used as a basis for initial planning and development proposals and models for directing the public and professional consultations in the planning and decision-making process of involved communities and urban spaces in the coastal areas. Additional workshops may be organised within the host institution. This is to link the students with the local and regional professionals for knowledge, skills and competences exchange and for further debating and enhancing the sustainable development of national coastal areas while working with the ISP outputs as a starting point and as a discussion framework.

ACTION no.6: Disseminating experiences/advances/results to the scientific community
The scientific community is informed about the development of all the stages of the project, particularly about the methods and structure of the online courses and the workshops (ISPs), as to enhance the transfer of good practises within institutions. To achieve this goal, the dissemination is pursued with publications; scientific books and journals, and academic meetings such as conferences and seminars. These activities are complemented by mutual workshops and debates with professional networks and NGOs' representatives. Thus, the project achievements are translated into practice through the participation of the academic team members in the European and national policy-making processes. The scientific dissemination is also useful to provide the partner institutions involved in the programme with ongoing feedback. Building expertise is a constant and neverending process benefitting from discussions and critique. It cannot be excluded, for instance, that similar experiences might have been carried by other institutions, hence the exchange of ideas with colleagues can result in a process of implementation of the planned activities.