Assessment
Jump to navigation
Jump to search
The online seminar introduces students to the sensitive nature of coastal landscapes and their vital relevance to society, economy and the environment. Planners and designers learn how to manage these territories sustainably. Course participants develop a profound understanding of the specific character of coastal landscapes. Students learn which driving forces are influencing the landscape system and which impact types are most relevant for planning and design responses.
This includes the global and European dimension since coastal landscapes are receiving increased attention worldwide. Participants learn about various approaches to landscape assessment in order to articulate the challenges and potentials of a coastal landscape. They have the opportunity to define and test assessment models and derive relevant knowledge for planning and design (see Figure C.2 Assignment B). The last phase of the course introduces different approaches to strategy building, planning and design in the context of coastal landscapes. On this basis, the course participants are able to draft a strategy and a master plan for a coastal area, taking economic, ecological and social aspects, and current policies into account (see the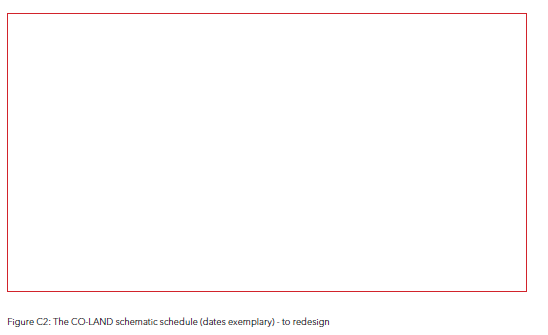 ).
The examination assignments in the CO-LAND OS consist of elaborating a case study on the basis of the template provided. This template is structured analogous to the course contents with respect to the synchronously held lectures:
Landscape System Analysis
Landscape Evaluation and Assessment
Strategy and Master Plan
Process Reflection

Part of the examination is also an oral online presentation after each thematic section of the seminar, i.e., held on the 4th (Unit A.4), 8th (Unit B.4) and 12th day of the course (Unit C.4). Each team member is required to speak and present one slide or more. Approximately four working groups are formed and together with the teachers and tutors, the working groups also form the presentation audience. The presentation is moderated and discussed within the working groups, evaluated by the teachers and tutors using a feedback form without grading (see Feedback Form), and the result is reported back to the four working groups in a timely manner. At the end of the seminar, the international teams also need to reflect on their collaboration process and document their findings in the template (see Assignment D). The completed case study provided using the wiki template is evaluated and graded according to the following criteria:

Comprehensiveness and depth of the research in general (in particular assignment A)
Methodological conclusiveness and clarity (in particular assignment B)
Consistency in the formulation of strategy and objectives as well as persuasiveness and creativity
in spatial (landscape) vision and implementation ideas (in particular assignment C)
Profoundness and seriousness in the process (assignment D)
Competence in textual and graphic expression, visual appearance of graphics and maps
Scientific quality of the elaboration, source work, citation method etc.

Students who actively take part in both the online seminar and the intensive study programme (ISP) workshop have the opportunity to take the graded assignment there. In this case, the focus is on strategic and spatial planning and the assessment criteria differ slightly.

Please use the following rubric templates for the assessment of student work in the COLAND intensive programmes.
Download the template for your own use (Creative Commons license)