COLAND Intensive Study Programme De Panne 2020
Jump to navigation
Jump to search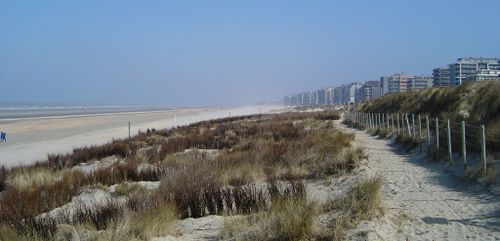 Key dates of the De Panne Intensive Study Programme
Implementation: September 2020 (Hybrid)
Host: Free University Brussels (ULB)
Cooperation partners: Municipality of De Panne and Flamisch Environment Ministry
Participants: 30 staff members and local experts and 30 students
Documentation: please watch this video documentation
The context of De Panne and the Belgian Coast
De Panne is a municipality located on the North Sea coast of the Belgian province of West Flanders, directly to the boarder of France. The municipality comprises apart from De Panne the village of Adinkerke. The city of De Panne has a current population of 10,748 inhabitants on a total area of 23.90 km2.
Famous people who have lived or died in De Panne include King Albert I and Queen Elisabeth, and John Aidan Liddell, VC, who died in De Panne in August 1915. The Belgian royal family lived in De Panne during the First World War because it was located in the tiny fraction of their country that was not conquered by the Germans. De Panne is the home of Plopsaland, a theme park aimed at young children and located on the former grounds of Meli Park. On 17 July 1831, Leopold I, the first Belgian king, sailed to Calais from England, and arrived in Belgium in De Panne. The Leopold I Esplanade, which includes a statue of him, commemorates his arrival.
The town of De Panne is surrounded by the beach and beautiful nature reserves, which serve to create a unique environment for taking either short strolls or long hikes. Close to the urban area, the 340-hectare Westhoek nature reserve is the oldest in Flanders (founded in 1957). The beach ridge, walking dunes and parabolic dunes, dune slacks, grey and blond dunes, grasslands and lime swamps reveal this vivid landscape. The area is also famous for its archaeological remains from the Iron Age to the Early Middle Ages. Also close to the urban area, the 60-hectare area of Oosthoek is owned by the municipality and is worth a visit for its great variety of landscapes. The western section belongs to the Calmeyn Forest. The actual Oosthoek Dunes include a dune slack covered with bushes (scrub) surrounded by higher and less vegetated dune ridges. Natural reserves are continuing also on french territory.
Due to the intense urbanisation process of the last years, also from the French territory, the dunes and natural reserves are under pressure (camping and restriction of dunes). The Intensive Program week will study the challenges of the coastal landscape and develop solutions related to a better management of the dunes and the open spaces in the municipality of De Panne.
Focus Topics
Coastal landscapes design
Sustainable Urban development
Urban sprawl
Resilience
Heritage and identities
Community-based planning
Green Infrastructure
Ecosystem services
Sustainable transport
Documentation
Please watch this video documentation
Location