Monitoring and evaluation
Jump to navigation
Jump to search
Executive Summary Step 9: Monitoring and evaluation
Monitoring and evaluation are integral parts of each project that can be methodologically classified under the category of action research.
Monitoring can be generally defined as the continual observation of a system and its development according to certain criteria.
Evaluation is the structured interpretation of results according to the original objectives, respectively, the measurement of the degree of achievement of these objectives.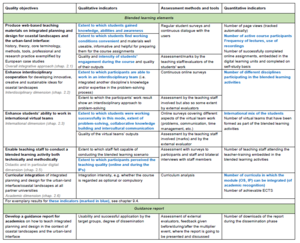 The benchmark for every evaluation is the degree of the achievement of the quality objectives. In this context, it is not compulsory that the quality objectives be the same as the learning objectives. This table shows the COLAND quality objectives, the used qualitative and quantitative indicators to evaluate the degree of their achievement as well as the appropriate assessment methods and tools